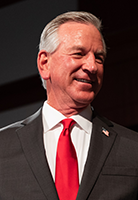 Been in congress
for 2 years
Up for Reelection
4 years
11/9/2026
SENATOR
TOMMY TUBERVILLE
(R)

ALABAMA
NATIONALLY
DEM:
A
REP:
A
IND:
A
IN ALABAMA
DEM:
No Grade
REP:
No Grade
IND:
No Grade
Viewing all letters
View in state letters only
Conservativeatheist (IND), GA writes
I gave you an "F", because you voted with the Diane Feinstein and the other communists on the $1.5 trillion Omnibus Bill, containing Gun Control language.
Gmpickle (REP), NE writes
I gave you a grade of A. Many of us are so disappointed to see our Republican party put their tail between their legs and retreat to everything this corrupt and worthless Democratic party has put on the table. Look we elected you people to...
Grade Gov
Election 2026
Would you reelect
Tommy Tuberville?

No results yet
Login to vote
Please note: you can only vote for senators in your state and congresspeople in your district, and only once.
Tweets by RepAbraham